ExpressPay, the AFFORDABLE, FEATURE-RICHED, USER-FRIENDLY payroll software with its extremely user-friendly & intelligent interface makes it the most value-for-money product.
ExpressPay, is a Windows-based, 32-bits with multi-document interface (MDI) payroll software. It is a realtime & developed sincerely for MALAYSIA payroll environment.
Developed by Accounting Professional with over 10 years of practical experience in public-listed group, offer you over 70 management and statutory reports sufficiently cater for management, payroll, accounts as well as statutory requirements.
If you really looking for a payroll software, this is the one you can't miss!
ExpressPay Overview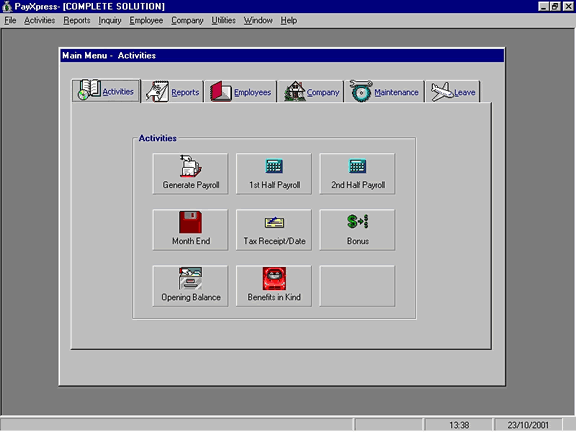 Multi-Document Interface (MDI),32-bit technology

Multi-company (for professional edition & above)

Maintain unlimited years of records

Easy processing flow

On-screen payroll work-sheet entry

Learn to use within an hour

Get your payslip, statutory reports & management reports in less than a minute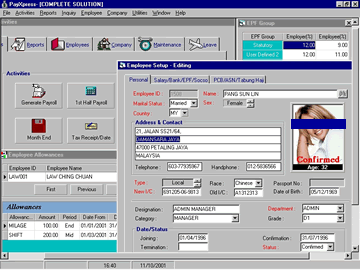 1st half & 2nd half (mid month & end month payroll processing

Accurate calculation of EPF, Socso & PCB for 1st half & 2nd half salary payment

Monthly-rated & Daily-rated Salary

User-defined payroll processing period/cut-off

Unlimited user-defined allowances & deductions

Automatic EPF, Socso, PCB, OT & Shift calculation

Automatic unpaid leave & paid leave calculation

Flexible bonus planning & computation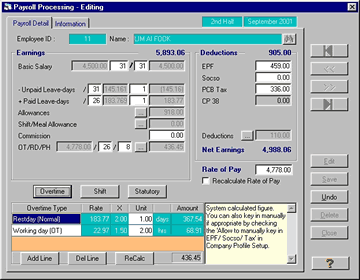 Preview/print/export monthly reports and unlimited years' yearly reports

Disk submission for EPF, Socso & PCB

Annual leave, sick leave & other unlimited user define leaves maintenance

Leave application & approval

Monitor medical expenses and its balances

Annual/sick leave - compliance to labour law

Government Reports & Management Reports

Password security & control

Scan employee photo in all popular picture format